First Call for Projects: Interreg Atlantic Area 2021-2027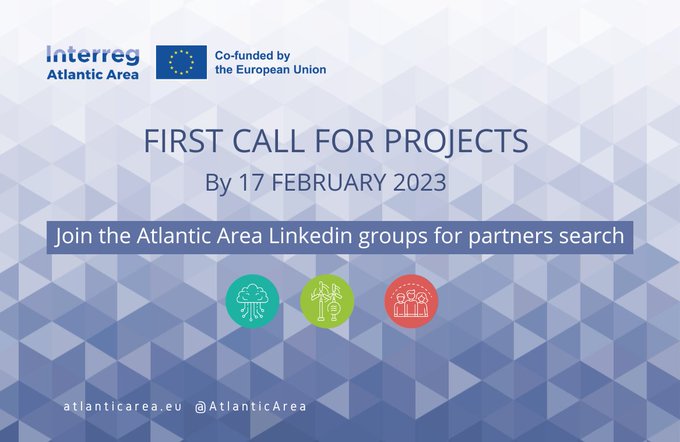 The call will be open from the 14th of October 2022 to the 17th of February 2023
Hasta el viernes, 17 de febrero de 2023 a las 18:00
The First Call for Projects intends to select high innovative quality transnational projects, in which organisations cooperate to make regions more resilient to common challenges that know no borders and cannot be solved alone.
Project proposals can be submitted under the three thematic Programme priorities and seven specific objectives. The description of priorities and objectives, together with the type of actions, is provided in the Approved Cooperation Programme 2021-2027.
he Programme budget allocated to this First Call is 45.4 M€. This allocation may be adjusted by the Monitoring Committee in line with the Programme needs.
AIMED TO:
A wide range of organisations, under public or private law, are potential beneficiaries of the European Regional Development Fund and may therefore join a project partnership. Lead Partner organisations can be public bodies, universities, education and research organisations, private institutions (not-for-profit) and international organisations acting under national law. The Lead Partner must be located in the Programme eligible area.
OBJECTIVE:
Blue innovation and competitiveness (Smarter Europe)
Blue and green environment (Greener Europe)
Blue sustainable tourism and culture (Social Europe)
A better governance for cooperation (Interreg objective)
DEADLINE: The call will be open from the 14th of October 2022 to the 17th of February 2023, until 6pm (Lisbon time). Results should be communicated to candidates within 6-8 months after submission.
The Monitoring Committee approval decision is foreseen for the end of June 2023.