3rd BLUE DEAL Transferring LAB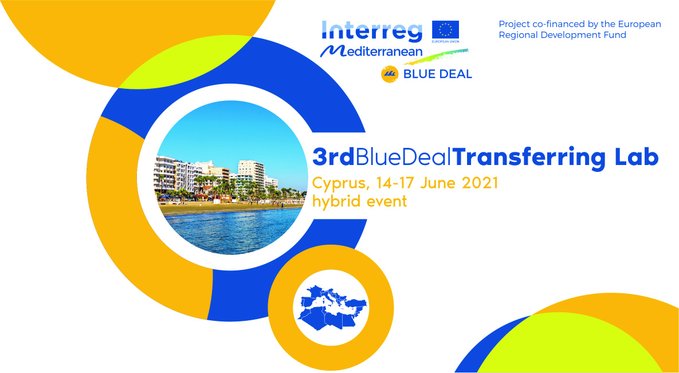 Comienzo: el lunes, 14 de junio de 2021 a las 10:00
Finaliza: el jueves, 17 de junio de 2021 a las 12:15
The Cyprus Energy Agency and the BLUE DEAL partnership are hosting the 3rd BLUE DEAL Transferring Lab, which is being held under the auspices of Larnaca Municipality. The Lab will take place in hybrid mode combining online and on-site presentations and will focus on Blue Energy related opportunities in Cyprus, as well as the wider Mediterranean area.
OBJECTIVE
The main aim of the Lab is to present and discuss the marine renewable potential on the island of Cyprus with a diverse set of stakeholders, in order to develop a set of recommendations that can support integration and deployment of marine renewables in Cyprus and promote development of the industry.
PROGRAMME
1st Day. Policy and regulatory framework of marine renewable energy in Cyprus.
10:00-10:20. Opening session

Andreas Karakatsanis, Larnaca Municipality 
Savvas Vlachos, Cyprus Energy Agency
Professor Simone Bastianoni, University of Siena

10:20-10:35. Cyprus Maritime Spatial Plan Law and State of Play in Cyprus

Kyriakos Aliouris, Shipping Deputy Ministry

10:35-10:50. Roadmap and targets for renewable energy up to 2030 in Cyprus

Iosif Spyrides, Energy Service, Ministry of Energy, Commerce, and Industry

10:50-11:05. Integrated Coastal Zone Management: Focus on Energy

Joanna Constantinidou, Department of Environment, Ministry of Agriculture, Rural Development and Environment

11:05-11:20. Larnaca Sustainable Urban Development Strategy 2021-2030

Andreas Karakatsanis, Larnaca Municipality

11:20-12:00. Open discussion
12:00-12:30. Coffee and light lunch
2nd Day. Blue Energy potential in Cyprus and how to support its deployment.
10:00-10:10. Blue Deal Methodology: How it can support consideration of marine renewable energy in energy plans

Louisa Marie Shakou, Cyprus Energy Agency

10:10-10:25. What are Blue Energy Technologies and how do they work?

Matteo Maccanti and Morena Bruno, University of Siena

10:25-10:45. Mapping blue energy potential in Cyprus: main findings and gaps

Federica Di Pietrantonio, Consultant for U-Space SL

10:45-11:00. Introducing the Blue Energy potential into the Cyprus energy system

Hrvoje Stančin, University of Zagreb, Faculty of Mechanical Engineering and Naval Architecture

11:00-11:15.Blue Energy for carbon neutrality

Dr. Riccardo Maria Pulselli, INDACO2

11:15-11:30. Visualization of feasible blue energy technologies in Cyprus

Konstantinos Smagas, GeoImaging Ltd

11:30-11:45. BREAK
11:45-12:00. Effects of anthropogenic activities on marine life in Cyprus

Dr. Louis Hadjioannou, Cyprus Marine and Maritime Institute and Enalia Physis Environmental Research Centre

12:00-12:15. Seabirds and Offshore wind – Data Sources, Data gaps and areas for future studies

Dr Martin Hellicar, BirdLife Cyprus

12:15-12:30. The Underwater Cultural Heritage of Cyprus: A Management Plan for a Sustainable Future

Dr. Despo Pilidou, Department of Antiquities, Ministry of Transport, Communications and Works

12:30-12:45. Sustainable coastal tourism in Larnaka

Nana Asmeni Pavlou, Larnaka Tourism Board

12:45-13:15. Open discussion
13:15-14:15. Lunch
3rd Day.  Developing the Blue Energy Industry in Cyprus.
10:00-10:15. R&I Support for Marine Renewable Energy

Dr. Nikolas Mastroyiannopoulos, Chief Scientist for R&I of the Republic of Cyprus

10:15-10:30. Financing of early-stage businesses, SMEs and scale-ups in the Blue Economy

Representative of BlueInvest (tbc)

10:30-10:45. Sea Wave Energy Ltd: The story so far

Tony Antoniou, Sea Wave Energy Ltd (SWEL)

10:45-11:00. From concept note to commercial exploitation

Savvas Hadjixenophontos, Fornelia Ltd

11:00-11:15. BREAK
11:15-11:30. Synergies for Marine Food and Renewable Energy Production

Dr. Nikolas Flourentzou, Cyprus Marine and Maritime Institute

11:30-11:45. Real-time Environmental monitoring/data collection

Marios Milis, SignalGeneriX

11:45-12:00. Maritime ClimAccelerator: Opportunities for marine renewable energy in Ports

Associate Professor Alexandros Charalambides, Cyprus University of Technology
Raul Cascajo Jiménez, Velencia Port

12:00-12:15. Blue Deal Open Innovation: Spotlight on Cyprus Challengeç

Larnaca Municipality
Kimagro Fishfarming Ltd

12:15-12:35. Open discussion
12:35-13:30. Lunch
4th Day. Regional Alliances in the Mediterranean.
11:00-11:45. Panel discussion, moderated by Zacharias Siokouros, Cyprus Marine and Maritime Institute

Representative from the Directorate-General for Maritime Affairs and Fisheries (tbc)
Captain Kazem Agamy, Arab Academy for Science, Technology and Maritime Transport
Rotem Trivizki, Migdalor Tel aviv- Yafo's coastal zone research center
Emmanuel Maniscalco, CPMR Intermediterranean Commission
Professor Ioannis Chatjigeorgiou, National Technical University of Athens

11:45-12:00. Blue Deal Regional Alliances

Markos Damasiotis, Centre for Renewable Energy Sources and Saving

11:00-12:15. Closing Remarks

Professor Simone Bastianoni, University of Siena
Louisa Marie Shakou, Cyprus Energy Agency
DATE 
14-17 June 2021.